Viewer Warning:
This is a Medical Study that contains photos and phrases that speak of the human body. There is content on this website you could be sensitive to if not previously warned of this content. Notice: If you are sensitive to issues of a "Medical Study", then please refrain and don't enter this site. Thank you.
Fibrelos Blood Clot Series
Fibrelos Blood Clot Sacks:
This diagram below will help to assist with learning more about the Fibrelos Blood Clot formations. The Fibrelos Study is introducing a few symptoms that may be present once it's recognized the Patient is suffering from this. A specific type of blood clot formation released by using the ©Pin Prick Shunt, helps in explaining and understanding a bit more about Fibrelos Blood Clot Sacks.
The Fibrelos Blood Clot Sacks are formed by the Fibrelos Strands forming close bonds called 'Fibrelos Fusing'. Once the fusing begins, the Fibrelos Strands can weave almost a 'Basket Form' causing blood to be trapped inside. We call this Fibrelos Blood Clot Sacks.
Fibrelos Oxygen Bubbles:
As the Fibrelos need Oxygen, Fibrelos Oxygen Bubbles can be seen in this photo in the diagram, it's noted where a few of the bubbles are. As there's other photos that have more Fibrelos Oxygen Bubbles showing, now you will be able to decipher what that is. The reason the bubbles can be seen is due to the water in the Petri Bowl where the Fibrelos Blood Clot Sacks are floating in. Even though the Fibrelos do not require to be in water, it still has oxygen flowing through each strand, and has shown to live outside the body for several months exposed to air.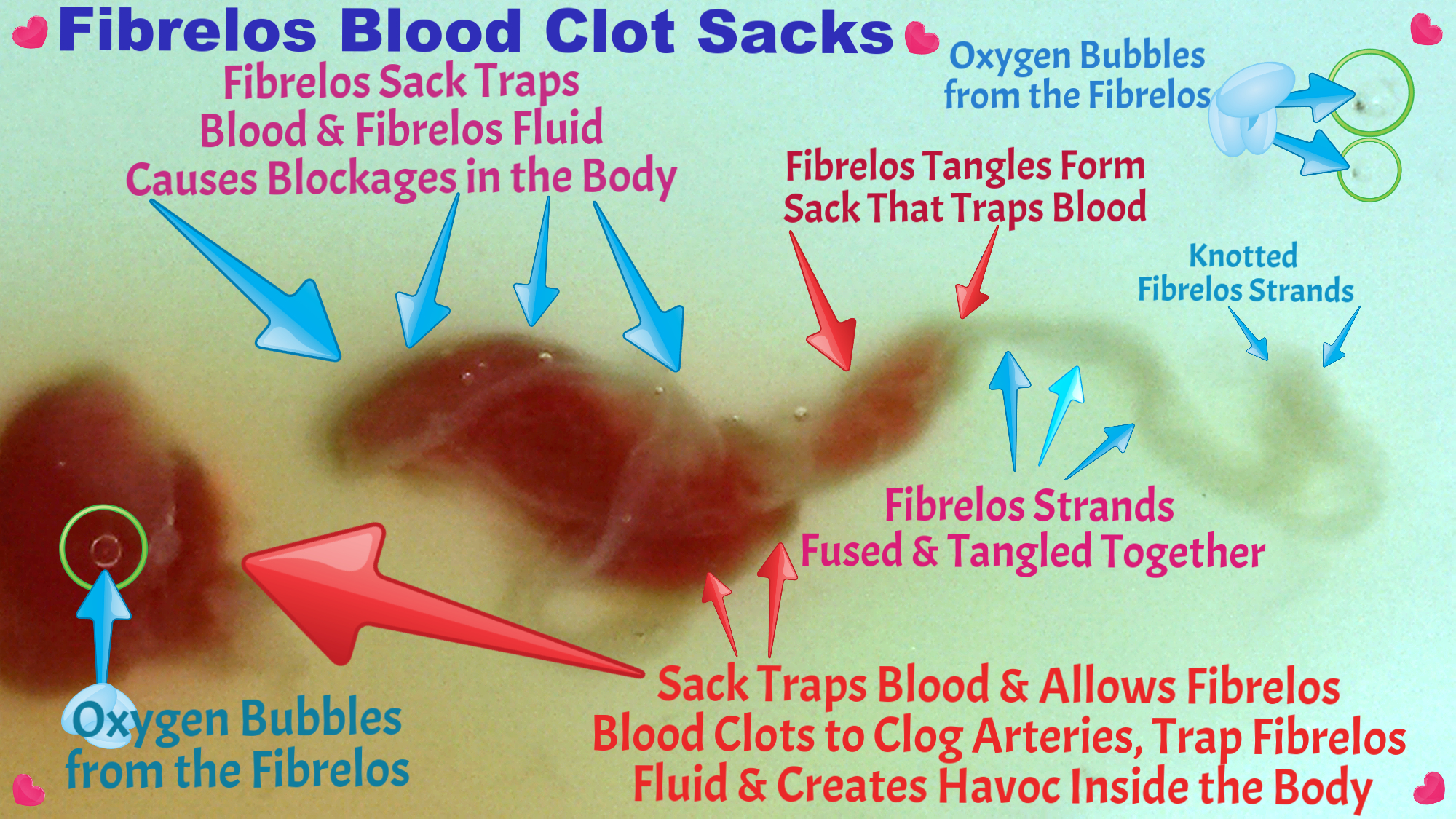 Fibrelos Blood Clots - Upper Right Leg -
This video below was done on October 7, 2017. This is the Founder's Right Leg above the knee. She couldn't walk without having to sit down every few feet. So, she opted to "Release the Fibrelos Blood Clots". She knew that the "Hard-to-the-Touch" and "Warm/Hot-to-the-Touch" meant trouble, so she did the ©Pin Prick Shunt.
Shortly thereafter shunted, and in time Fibrelos Blood Clots blew out. The photos of the "Red", that's the amount of Fibrelos Blood Clots that came out of one (1) shunt. The amount of "Clot" was not 3-4 cups, as the video mentions; that was just approximately. The amount of "Fibrelos Fluid" was also less than 2 cups, as the video mentions; that was just approximately, f.y.i.
Then on October 8, 2017, the two (2) photos showing the Fibrelos Cover - scab, and the other with three (3) Fibrelos Covers - scab, that was the next day after the extreme "Fibrelos Blood Clot Blow-Out" on October 7, 2017.
New in September 2018:
September 16, 2018 is the recent removal in video below. This was of the Left Breast just at the Heart Point. What you will see is a flow of Fibrelos, Fibrelos Blood Clots, Fibrelos Fluid and Blood as well, coming out steadily.
The Heart Palpitations have nearly diminished as of September 15, 2018, however with the shunt seemingly looking as if it was needing to flow, once again on 9-16-2018, at least 1/2 to 3/4 cup of Fibrelos Blood Clots and other Fibrelos product flowed out. This diminished the capacity of the Heart Palpitations by approximately 90%.
Note: Graphic Video Warning:
Tap these Photos Below to see the Videos:
See Video of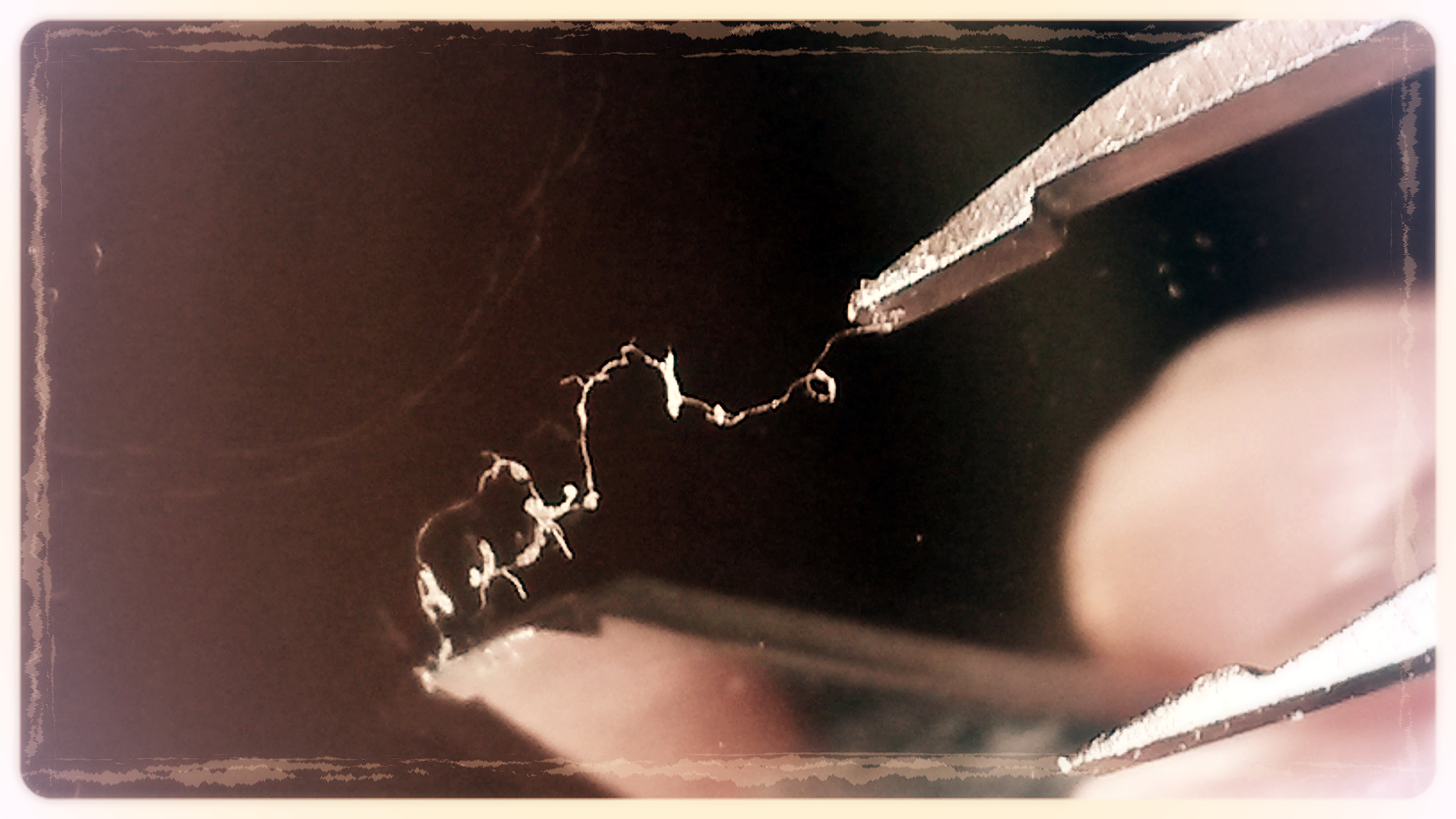 10-7-2017
See Video of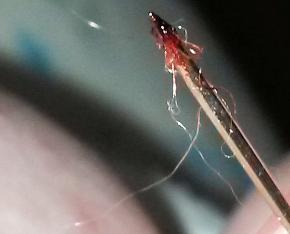 10-15-2017
See 1st Video of Fibrelos Blood Clots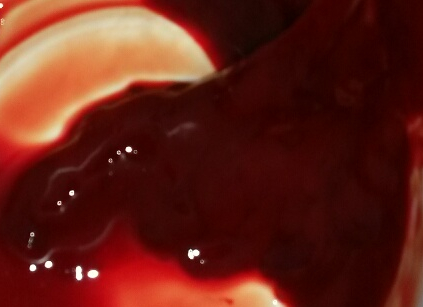 Flowing at Heart/Left Breast on 9-16-2018
See Fibrelos Blood Clots Flowing at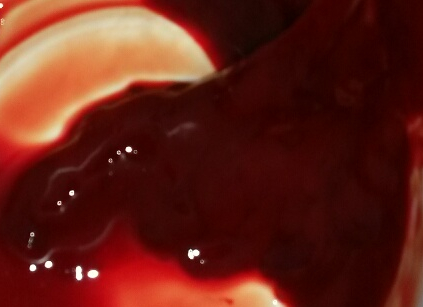 Heart via Left Breast on 9-16-2018
These photos below are a combination of the Heart Palpitations that were relieved after a ©Pin Prick Shunt was performed. Founder had extensive Fibrelos Blood Clots flow out. After the drain was done, the relief was 95% - no heart palpitations.
The photos of the section below, showing the neck & black dots, that is the center of my neck, approximately a circle of 3" x 2" is raised. There was a Fibrelos Bump there, which was drained. No blood, no Fibrelos Fluid or other drainage came out, only Fibrelos Rock Clots - the black dots - came out.
This was all mentioned to Kaiser Specialty and Kaiser General Practitioner, this is happening.
This is a single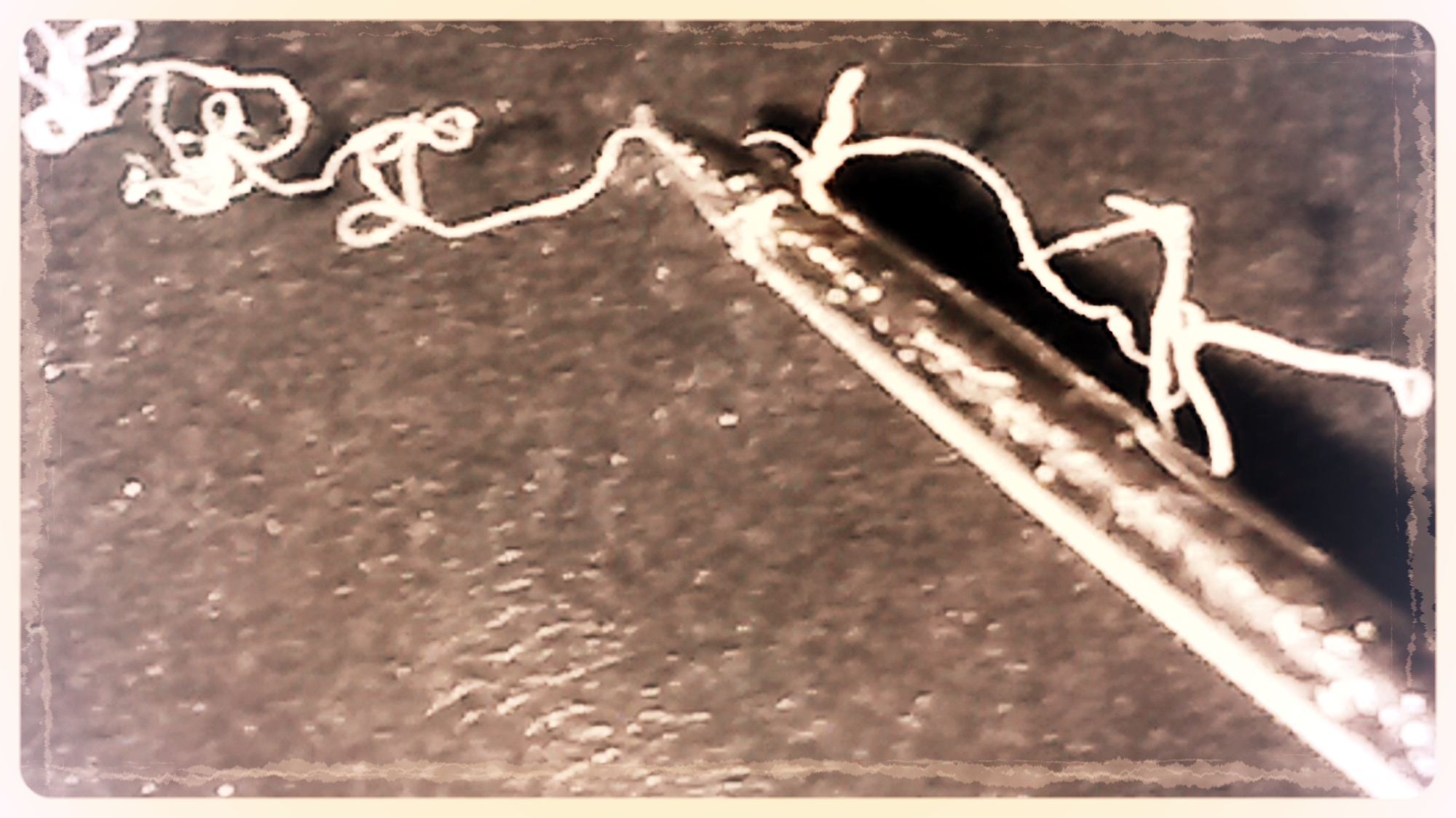 Fibrelos Strand. Just one of these could interfere with your health.
Fibrelos Blood Clots - Between the Breasts
Below is an assortment of different photos of the Fibrelos Blood Clot Series. This one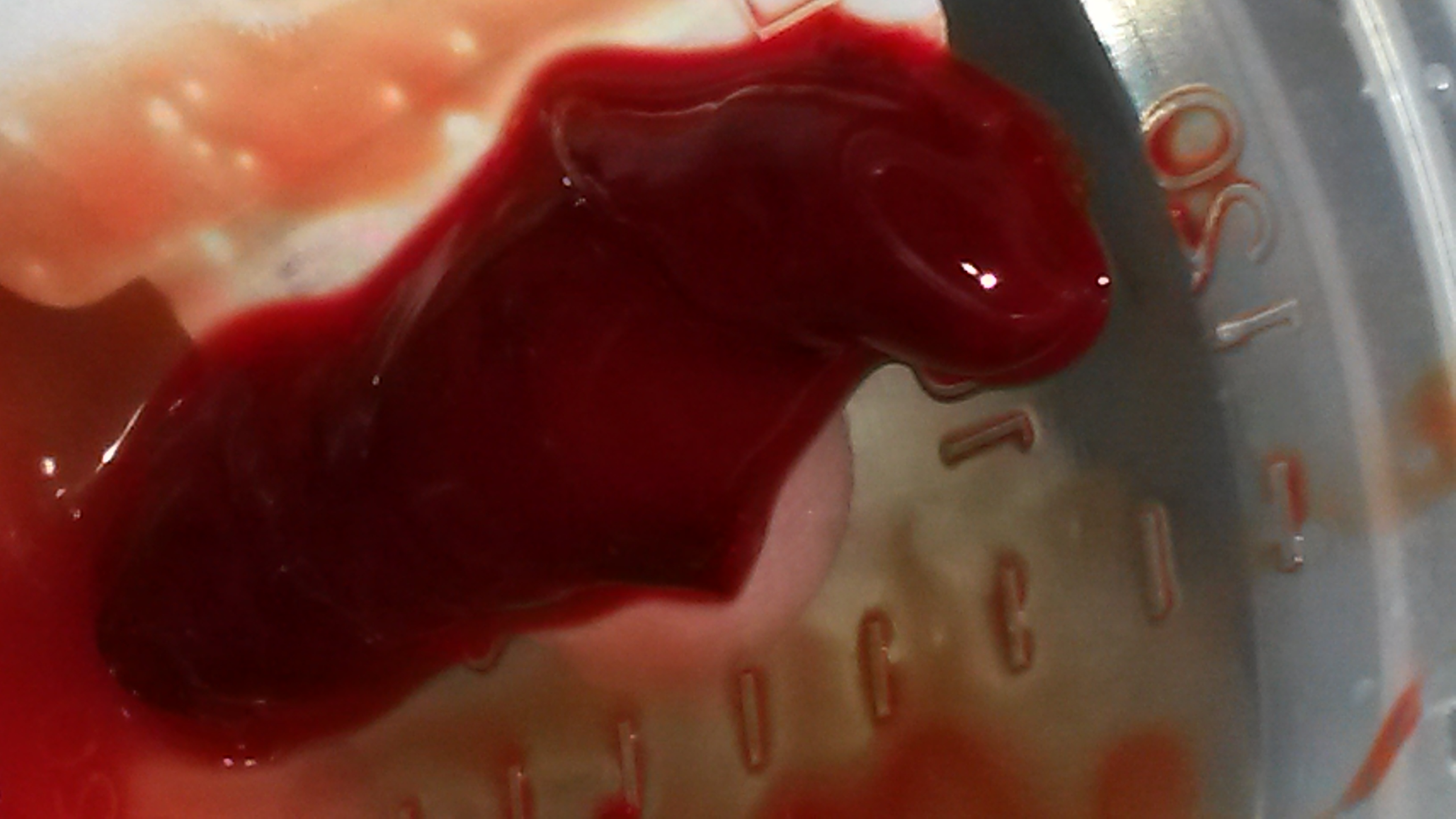 came out from between the breasts of our Patient, this was on October 15, 2017. The size was approximately 4" x 1". The removal of this was excruciating; once it was removed, less heart palpitations, less pain. However, our Patient is not out of the woods yet, so to speak. Just this morning, she had to attend to her upper center chest area.
These are photos from Using the
©

Pin Prick Shunt to Release

The type of blood coagulation that happens with Fibrelos Blood Clots are a strong clot that doesn't break up very easily. Seen in the water with a few photos, the oxygen b ubbles are visible with the Fibrelos Strands fused together. This makes the clots hold together in a Fibrelos Blood Clot Sack, as mentioned above, it could potentially clog arteries, block flow to organs, and even cause a potential stroke or a heart attack. Blood clots are a very special study portion of the Fibrelos Study, and we look forward to providing more information once it becomes available.

White Flower Productions Copyright for this site: ©2000 - 2019

All media is protected this ©Copyright
©Copyright 2000 - 2019 "©The Branc hworm Study - Phase I" , "©The Fibrelos Study - Phase II" & "©The Fibrelos Dry Study", "©Fibrelos" is under Copyright ©2000 - 2019 for the ©Fibromyalgia Lyme Disease Foundation (©F.L.D.F.), "©The Pin Prick Shunt" ©2000 - 2019 is under Copyright for the F.L.D.F. ", ©The Natural Flowing Biopsy", ©2000 - 2019 is under Copyright for the F.L.D.F., ©2018 - 2019 The Lyme-No-Mo & Lyme No More Campaigns are Presented by the F.L.D.F.