Fibrelos Tumors
Those that have Lyme Disease, understand the 'Built-Up Pressure' feeling in different areas of the body; maybe you have a headache, or maybe feeling pressure in your legs, arms, in any area of the body. A bump, pigment, or a small raised area maybe you didn't see, could very well be a possible Fibrelos Tumor growing beneath the surface.
What this means is, even though you may or may not feel this; maybe there's a tickle/sensation, even slightest change in your skin could be a problem; possibly the first sign of Lyme Disease, and/or Fibromyalgia entering a new phase.
Due to the knowledge of the Fibrelos Study being available, and although a Mammogram, EKG, or other equipment does show something is happening, the specific training is not there to alert about what Fibrelos looks like, as this happened to the Founder. She is positive with Lyme Disease tests, but never bit by a tick before, just like many people.
It's very important for Specialists to be aware of this Fibrelos Study, as awareness is always the key to further knowledge base in everything. The equipment is one thing; preparing the experts to look for Fibrelos growing in any area of the body, that will come in time.
Keep in mind everyone, we're looking for Researchers, and please contact us today if you would like to help out.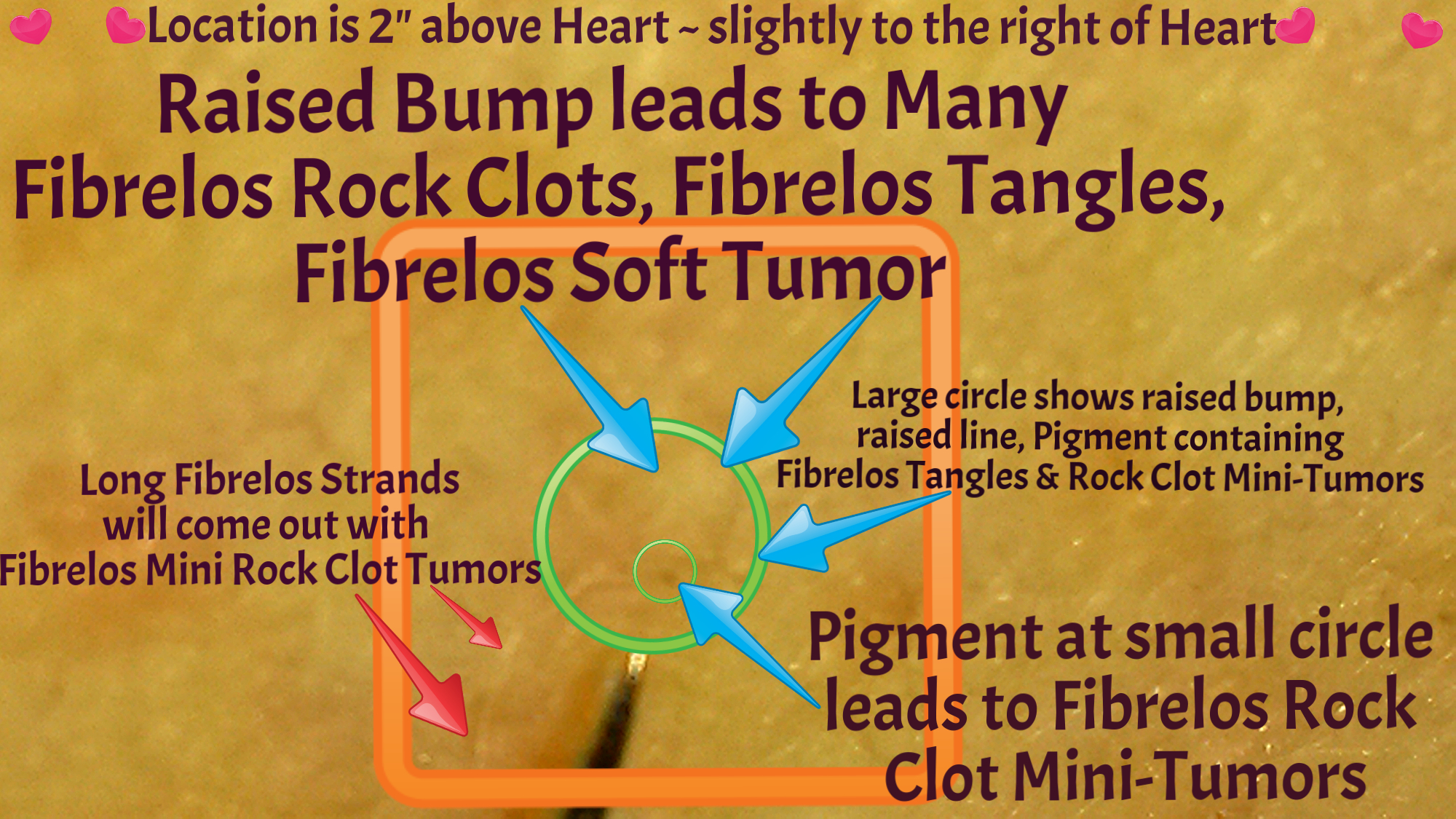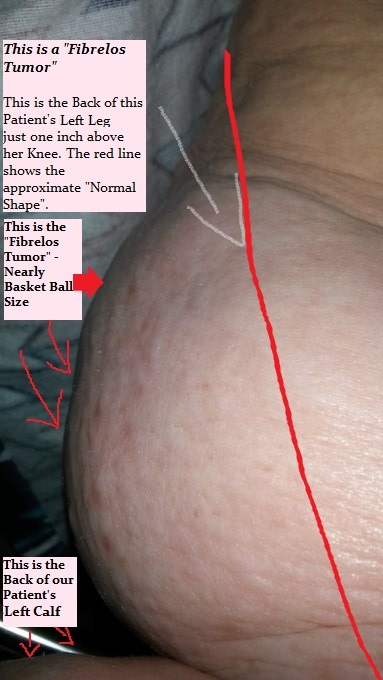 <---This is the Fibrelos Basketball Tumor, as seen in our website, this is
<---actually something our Founder suffered from. See where the back of the left leg literally raised up nearly the size of a basketball? This was no fun, and she got no help from the medical community. See the area in
<---front of the red line, as we point to it here, it's visible to see how large the back of her leg actually got-please follow the arrows placed above & below as well. The leg should have been flatter, and instead became rounded and extremely huge. Could you imagine being turned
<---down as she mentioned her study to doctors; for some reason it seemed they didn't want to be, how to say it -"Over-done by a Rookie", but it's the only way to presume this is what happened. She was on her own, and today, with the ©Pin Prick Shunt paving the way to a miraculous recovery, today our Founder has no residual effects.
Learn more about the beginning of a Mini-Rock Clot Tumor and how the further development of a full size Fibrelos Tumor such as the Basketball Tumor grew, please visit that section as well here on this website. Don't forget to 'Tap' each photo to take you to each section to assist in learning further about a specific photo.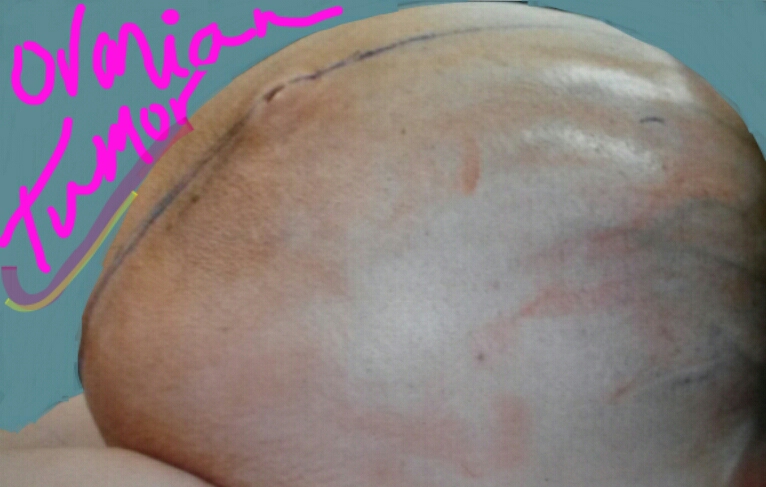 This photo you will see a similar Tumor as the Fibrelos Tumor shown above. This photo to the left is showing the same sheen & shine, but it's actually an "Ovarian Tumor". This one weighted 132 pounds. Can you believe the Fibrelos Basketball Tumor is nearly identical. Possibly this 'Ovarian Tumor' is actually a 'Fibrelos Tumor'. This is from a CNN Report
Google Translation Tool: We have provided ease in Translation with the Google Translation Tool. Please select your language choice below. Thank you.

White Flower Productions Copyright for this site: 2000 - 2019
All media is protected under this ©Copyright
©2000 - 2019 Copyright "©The Branchworm Study - Phase I" , "©The Fibrelos Study - Phase II" & "©The Fibrelos Dry Study", "©Fibrelos" is under Copyright ©2000 - 2019 for the ©Fibromyalgia Lyme Disease Foundation (©F.L.D.F.), "©The Pin Prick Shunt" ©2000 - 2019 is under Copyright for the F.L.D.F.", ©The Natural Flowing Biopsy", ©2000 - 2019 is under Copyright for the F.L.D.F. , ©2018 - 2019 The Lyme-No-Mo & Lyme No More Campaigns are Presented by the F.L.D.F. #Pin Prick Shunt