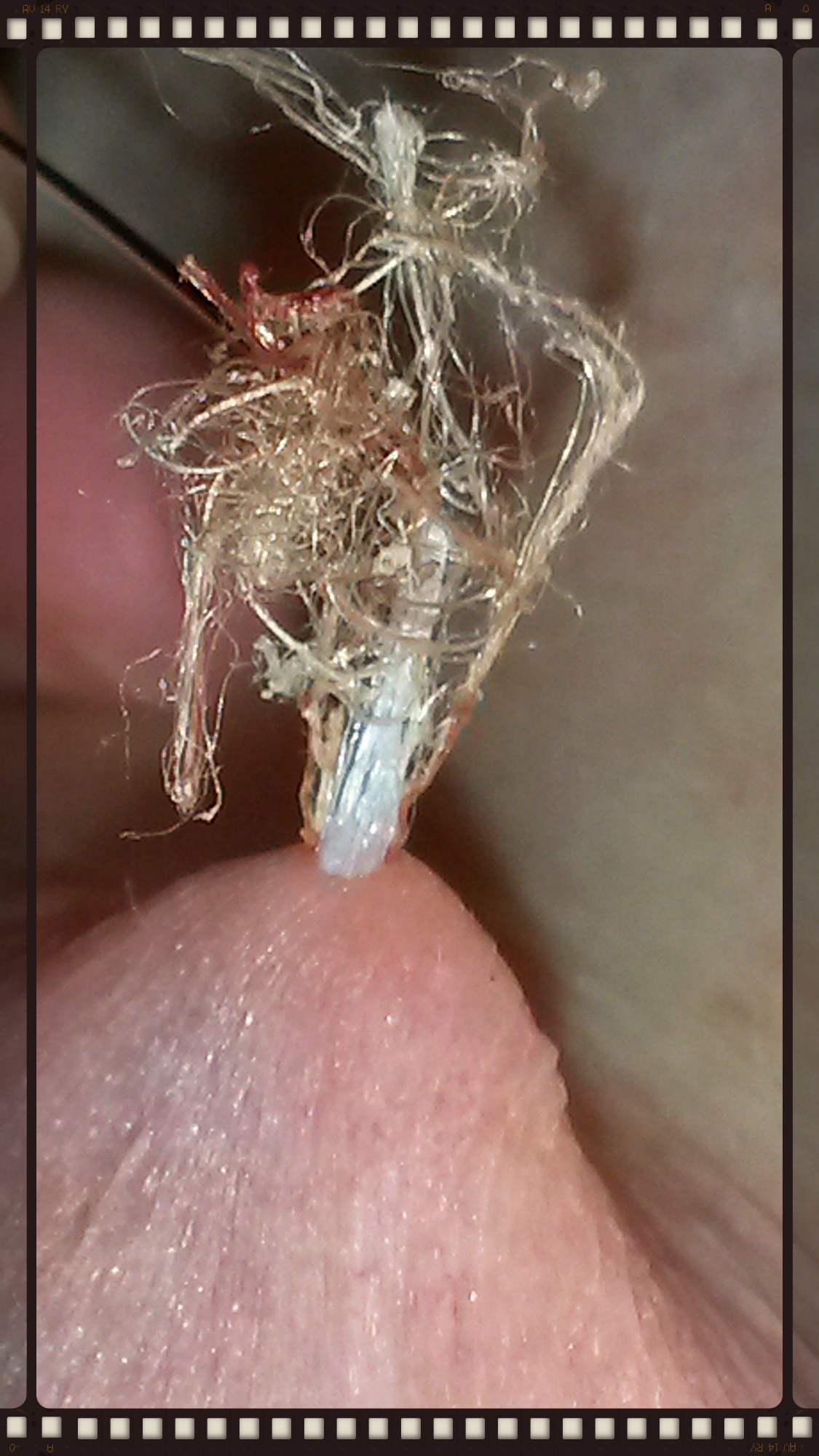 Photo is from October 4, 2017 ~ This is from our Founders upper Right Chest area. Heart Palpitations decreased once the Fibrelos Strands were removed.
Kaiser Didn't Listen to the ©Pin Prick Shunt and Free Form Biopsy Information of the FLDF Founder:
Click here ~ to take you directly to our page 'Kaiser Accepts the Fibrelos Study, then Denies it Due To Founder's illness creating Delay...' Using Incomplete Conclusions Doesn't Assist with Answers: Kaiser vs. CDC vs. Mysterious Symptoms
Kaiser Accepts Fibrelos Study~2009
History in 2000 - Before Fibrelos Study begins:
The Fibrelos Study is documenting a specific type of Lyme Disease by our Founder; that was just the beginning. As she notified her Kaiser Physician in 2000 she had some symptoms, they provided no relief. This was eight (8) years before th
e

s

tudy began. She indicated to this Kaiser Doctor she had symptoms with her skin: bumps & black things coming out.
That's when the Founder had her first "Skin Notification" that Kaiser couldn't Cure". She just took it for face value that if Kaiser couldn't help her, then she should just "Ignore It and It Will Go Away on It's Own" -that was the statement by her Kaiser Physician ~ thanks, Chris, M.D.
2009 - Founder of FLDF Diagnosed with Lyme ~ Specific Test:
The

FLDF Founder

couldn't get any answers from physicians. Then in 2009, she was tested for Lyme by her Lyme Specialty Doctor, and it came out positive. But she wasn't bit by a tick; she just had a bad rash on her arm, as well as suffering from terrible symptoms.
While she was looking for a direction what was causing the symptoms, she began doing research. She called a few large laboratory corporations and spoke with a nice lady at a lab somewhere in Utah. Trying to get answers, as laboratory personnel sometimes know more than we think, she found someone that mentioned a very important study. It was Mary, the laboratory personnel in Utah that told her that Kaiser & the CDC were doing this study on "Unexplained Dermopathy".
Thinking this new Fibrelos Study information could really help out, she called the head of their study, Dr. Joe Selby, and The Fibrelos Study was accepted. However, the Founder didn't have everything typed up-as stated above, so although she had her foot in the door, she was 2-days late turning in her Fibrelos Study (at that time, the Fibrelos Study was called 'The Branchworm Study') because she was extremely sick with the symptoms of Fibrelos. The Fibrelos Study was then rejected by Kaiser due to delay.
When the CDC & Kaiser set the beginning and ending time of their study, they stuck to it. What's the old saying..."One Step Forward and Two Steps Back", that's not nice, Kaiser: People are Suffering.
Notifying Kaiser Permanente Research Division in 2009 of The Fibrelos Study:
As mentioned above, our Founder began having symptoms in the year 2000. Then in 2009, was so sick she could barely raise her body to get out of bed. Her Mother (R.I.P. 5-10-2017)
began

to help her research her symptoms on the internet. Even though Mom didn't know how to use a computer well, as Mom just got her first computer in 2009- an "HP Desktop-(R.I.P. 10-29-17)",

the

FLDF Founder

taught her over the phone while she was bedridden from Fibrelos Symptoms.
It was tiring calling around for help; many laboratory companies not able to help, but that really nice person named Mary: if I didn't speak with her, the Fibrelos Study probably would never have begun. She was wonderful telling me about the study being done by
Kaiser Permanente and the Centers for Disease Control

(hereinafter the CDC.) . Tap to go to the

"Unexplained Dermopathy"

study CDC/Kaiser was doing.
Unfortunately, she became bedridden and too sick to complete it, but it's here now.
Using Incomplete Conclusions Doesn't Help: Kaiser vs. CDC vs. Mysterious Symptoms:
Our ©Natural Flowing Biopsy and Our ©'Prick Shunt'
Explaining the "Prick Shunt' is fairly easy. The top lay of skin is simply pricked to let fluids & Fibrelos Products flow out naturally. Above: This is the ©Pin Prick Shunt releasing Fibrelos Rock Clots, Fibrelos Blood Clots, and fluids.
For standard "Lyme Disease", you would need to be bit by a "Tick". Fibrelos is different; it's a Tick Borne Lyme Disease. I'll further explain. When "Lyme Disease:" was discovered, a testing was developed specifically for the pattern of a Tick-Borne bite from a Tick. Fibrelos new testing protocol will be easier once testing is developed to diagnose Fibrelos activity in the body.
The ©Pin Prick Shunt & Natural Flow Biopsy, the Fibrelos Strands, plus Fibrelos blood clots, Fibrelos Fluid, flows naturally. This is a natural shunt- the ©Pin Prick Shunt assists with fluid drain specimen flow out. This Patient is still having Lumps, Bumps, and Symptoms of Fibrelos.
October 18, 2018 FounderContacted the CDC
What is Fibrelos?
Dry Fibrelos 4-Months Exposed to Air, Still Survives